keyboard_arrow_down keyboard_arrow_up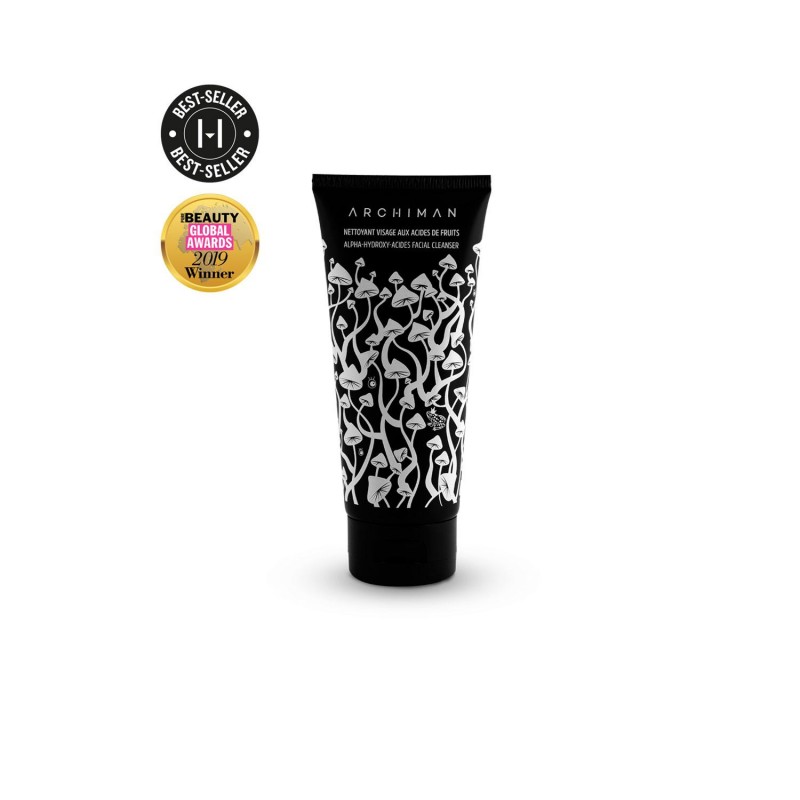 Face cleanser with fruit acids
Archiman
Summary
Put your skin on acid!
We had a real crush on this range of skincare for men, and especially for the facial cleanser with fruit acids!
In addition to the offbeat tone and the original graphics, these products are real treasures that will convince the most recalcitrant men!
Gentlemen, just do yourself good by taking simple actions. Here the fruit acids (blueberry, sugar cane, maple, orange, lemon) do all the work and cleanse your skin thoroughly. All on 100% natural woody notes, subtly worked by a "Nose" from Grasse. Do not be surprised if Madame borrows it, we have already adopted it here :)
No wonder he has already received the 2019 "Beauty Global Awards"
Description
This Face Acid Cleansing Gel with Fruit Acids cleanses your skin in depth while respecting its hydrolipidic film. The fruit acids (AHA) present in this gel work miracles on the skin: they reduce the cohesion of dead cells and thus facilitate their elimination on the surface of the skin, stimulate cell renewal, as well as the synthesis of collagen and d elastin which restore skin tone and elasticity.
This Cleansing Gel is the best way to get "new skin" in just one minute: It restores radiance to the complexion, smoothes surface imperfections, reduces pigmentation problems and reduces the depth of wrinkles. Your skin is clear, ultra soft, and invigorated.
ACTIONS:
Cleanser, New skin, Healthy glow, Urban shield
APPLICATION :
Place a small amount of product in the palm of your hand. Apply to the wet face and neck, avoiding the eye area. Emulsify for 1 minute and rinse thoroughly. This Fruit Acid Cleansing Gel can be used daily for perfectly cleansed, smooth and radiant skin. Let yourself be caressed, because even under acids you remain the master!
Details
Contenance (ml)

100ml

Test

Not tested on animals – but only on our friends!
Tested under dermatological control.

ingredients of natural origin

95%

Origin

Provence-Alpes-Côte d'Azur