keyboard_arrow_down keyboard_arrow_up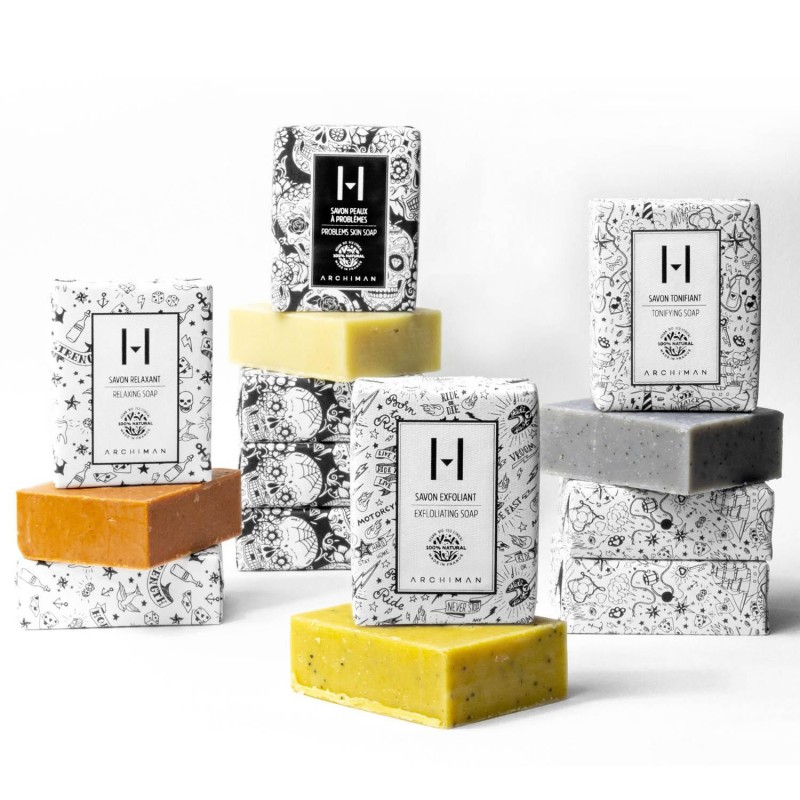 Soaps: relaxing, toning or exfoliating
Archiman
Summary
This 100% Natural and Organic soap, resulting from a cold saponification, can be used on the face as well as on the body.
Soaps 
Relaxing: Enriched with apricot kernel oil, red clay and honey its action is regenerating. Scented with essential oils of Mandarin and Sweet Orange for a soothing effect. 
Exfoliating: Enriched with Castor Oil, White Clay, Turmeric and Poppy Seed, its action is softening, healing and exfoliating. Scented with Patchouli essential oil, it will leave a light sensual veil on the skin.
Invigorating: Enriched with Shea Butter, activated charcoal and scented with Patchouli essential oil, this purifying and regenerating soap will leave your skin soft. Woody and spicy notes leave a delicate sensual scent on the skin.
Description
Contrary to Marseille, Aleppo and other methods, the cold soap is not raised in temperature, it is rested for a month to preserve the properties and benefits of all its ingredients. This method makes it possible to use exceptional virgin vegetable oils for a soft and deeply nourished skin.
Each natural ingredient is carefully chosen to achieve a perfect balance between natural healing properties and fragrances. These natural soaps are enriched with precious virgin oils (the highest possible quality) and contain no chemical dyes or fragrances. Only essential oils. 
100% natural and organic ingredients
Suitable for all skin types
Not tested on animals, but on friends!
Tested under dermatological control
80g