keyboard_arrow_down keyboard_arrow_up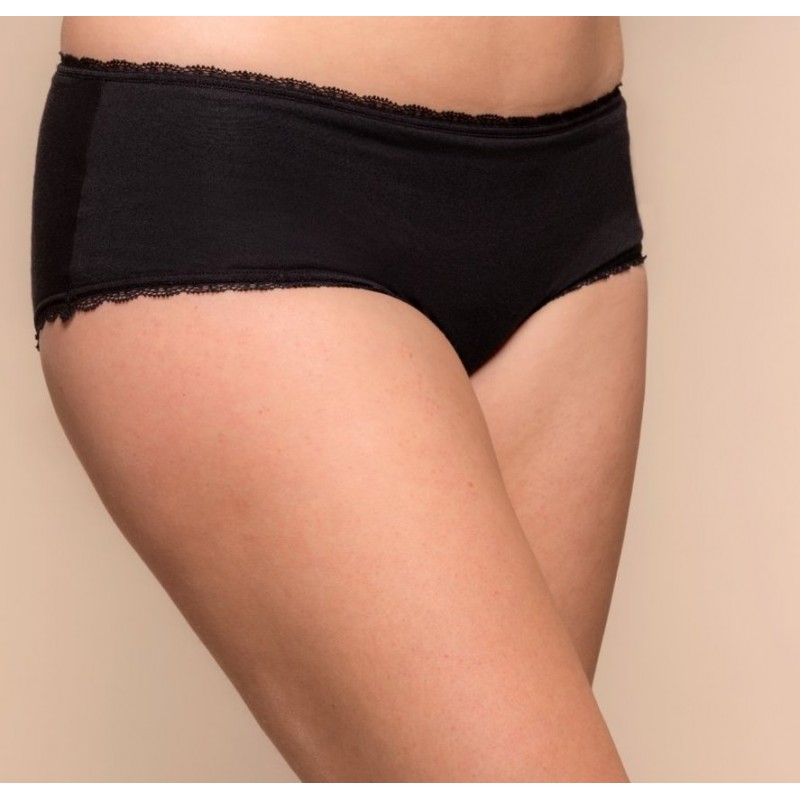 Lys menstrual panties - Medium to heavy flow
Pourprées
Summary
Menstrual panties
A revolution for women 
The pretty Rosa panties are designed for light to medium flows. It is made by talented seamstresses in French workshops, with a pretty French lace and certified organic cotton. 
Did you know?
45 billion pieces of intimate protection are thrown away every year worldwide.
A woman throws away between 100 and 150 kilos of sanitary pads, tampons and applicators in her lifetime.
Traditional intimate protection products take 400 years to degrade.
Description
Composition:
Organically grown cotton, certified STANDARD 100 by OEKO-TEX®. There are no silver nanoparticles in the panties, and no bamboo fiber.
Outside of the panties: 95% cotton, 5% elastane (Lycra).

Interior of the panties: 65% lyocell (fiber of eucalyptus), 33% polyester, 33% polyurethane.
This menstrual brief is equipped with an ultra-fine technology composed of 4 layers. This absorbent protection goes up well in front (until the top of the pubis) and well behind (until the buttocks) in order to protect you from the leaks.
The first layer is made of certified organic cotton. It is in contact with your intimacy. It keeps you perfectly dry. 

The second layer is made of eucalyptus fiber. Unlike most brands, we do not use bamboo fiber, considered too polluting. It absorbs blood and odors.

The third layer is made of PUL. It is waterproof and protects you from leaks!

The fourth layer is made of certified organic cotton.
How does it work ?
You put on your panties in the morning, you spend the day with them, and you wash them in the evening by hand or in the machine. The majority of the customers keep their panties between 8 to 12 hours. This will depend on your flow and the model you choose. If you have very heavy periods, the menstrual panties can also be used in complement or to be changed more regularly. 
Inside these are housed an ultra-fine technology capable of absorbing between 2 to 4 tampons (depending on the model). 
How to clean :
Before the first use, let soak 12 hours in water to improve absorption capabilities.
Once spent the day with, rinse with lukewarm water then wash by hand or machine at 30 degrees.
Do not use fabric softener, soap or detergent containing glycerine, or Marseille soap.
Do not iron or tumble dry. 
Choose your size:
Where to take your measurements? Take your measurements at the height of your pelvis, just below your belly and just above your buttocks. 
Between two sizes? If you are between two sizes, we suggest you take the top one. You will be more comfortable during your period.
Translated with www.DeepL.com/Translator (free version)